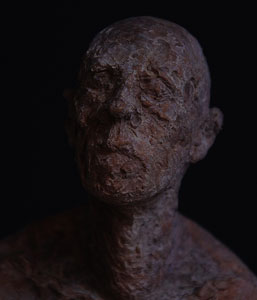 ART CAN NOT BE MODERN , ART IS ETERNAL
Quoting Egon Schiele , an early 20th century Austrian expressionist , whos work greatly influenced Edward vandaele. Graduating from the royal academie of fine arts,in which he refined his anatomic knowledge and broadened his view on art,Edward Vandaele has to been looking for his own style. His search led him to an oevre which is strongly influenced by the expressionism of the 19th century,but to which he added new forms of contemporary art.
Edward Vandaele prefers the personification of the human figure in his bronzes,but he adds an expression captured in a moment : anger,doubt,wonder pride,sadness,fear,… expressions bringing his bronzes to life. Generally , his work is based on aspects of the present: 'Nature as teacher of the arts'. His tragic figures have to cope with all sorts of emotions, expressed by their drawn-out limbs and their expressive faces. Tragedy and beauty, two concepts, not necessarily to be devided.
The sculptor works in solitude, does not use life models; only feeling and inspiration, being the tools to form of a new creation. Being a creator of beauty, Edward Vandaele is also the craftsman behind his bronze sculptures. He follows the process of casting, and finishes the bronzes himself.
Vandaele distances himself from new art forms, avant-gard artists, and his former academic knowledge, and tries to give shape to contemporary life. Being the artist , working instinctively from the hart, he tries to convince not only the layman, but also the alleged art connoisseur. He tries to touch the soul of the spectator, and hopes to describe his oeuvre as a Legacy for this world.
Because, 'art can not be modern , art is eternal.'